Description
This plugin performs shape sequence / stacking order optimization inside CorelDRAW.
Compatible with CorelDRAW X6 (64 bit only)
IMPORTANT: no future updates for CorelDRAW versions past X6
It rearranges the objects in a drawing so they can be processed in the optimum order for cutting on a vinyl cutter, laser or CNC cutting system.
The optimization of the cutting order speeds up cutting; and in the case of vinyl cutters, also improves accuracy. The reason is that the vinyl is fed back and forth through the machine to a lesser degree.
It's common for objects to become scattered in the stacking order due to cut-and-paste and other operations. (Jeff's note: especially after using a nesting tool such as ecut which aggressively optimizes spacing of various shapes to save material: ecut was used in advance for the examples below. The Artwork Optimizer does not nest shapes).

The red lines and arrows show the sequence in which the drawing will be processed.
Here's some sample files showing before and after.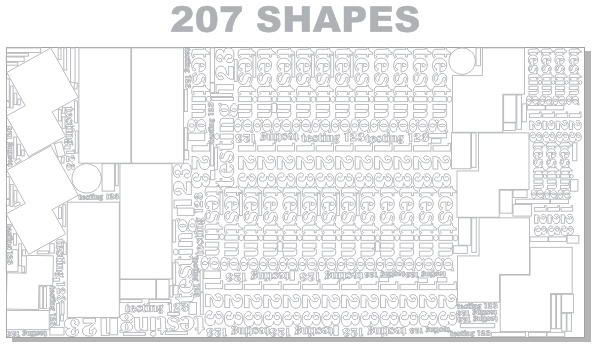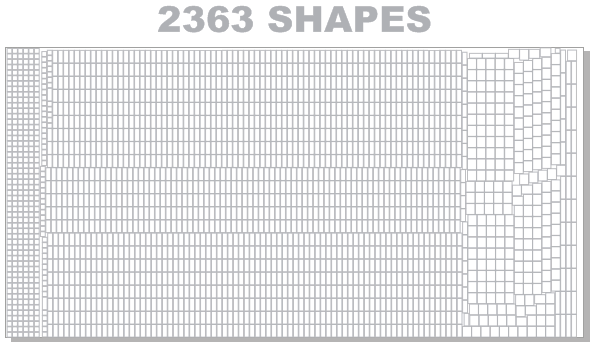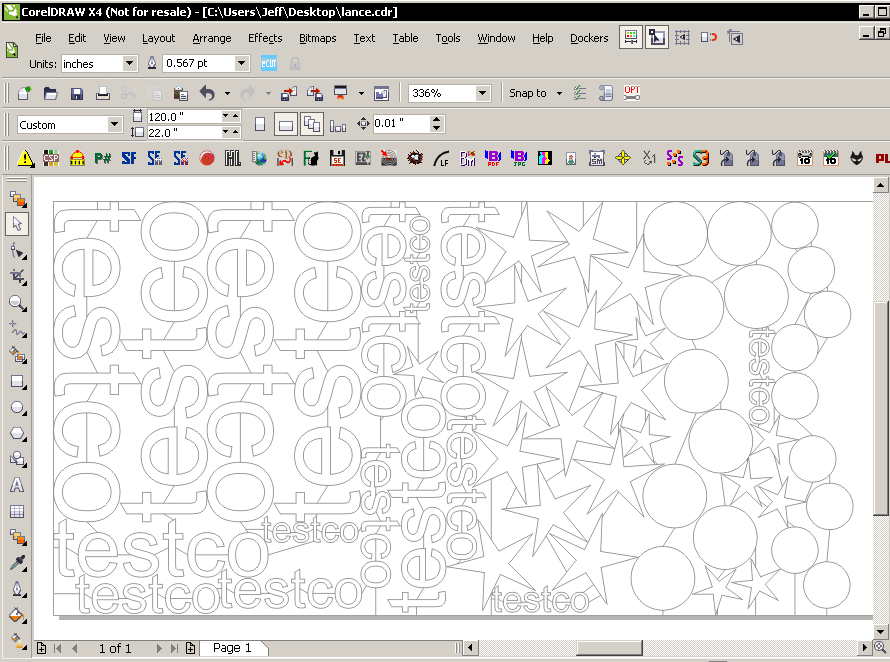 The difference is dramatic: the Artwork Optimizer has processed drawings as large as 12000 objects and the 6000 object drawing used during development rearranged the elements in about 10 seconds. Files such as the above only take a few seconds.
Compatible with CorelDRAW X6 (64 bit only) on Windows 7
IMPORTANT: no future updates for CorelDRAW versions past X6
New Features of Artwork Optimizer Standard Edition
Inside Before Outside Benefits
The Artwork Optimizer can now sequence inside before outside. What this means is that if a shape is inside another shape (is an Island) then the Optimizer can sequence the inside shape before the container. This is essential in CNC cutting so the outside shape does not become loose and cause the inside shape to be cut incorrectly. Laser cutters can also benefit from this process.
Drawing Converted to Curves and Ready to Cut
The Artwork Optimizer produces an optimized drawing that has all the text and combined shapes broken apart and converted to curves. This is a new drawing that is fully cut ready. The original drawing is not modified.
Artwork Optimizer Standard Edition 1.3 has the following fixes and changes:
Support for inside-before-outside sequencing has been added for shapes that have islands inside their main outlines.
It has a new licensing system and installer that bundles all the files needed for all supported versions of CorelDRAW into a single installer.
The new licensing system requires the use of ID and License files. Cut-and-paste is no longer supported.
This version allows multiple users with different user accounts on the same computer.
Fixed a bug in the licensing system that prevented using maximum length computer names.Added support for Home and Student X6 installations
Added support for Technical Suite X6 installations