Subscribe to our E-Newsletter!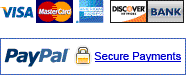 Hello CorelDraw fans! Where should you start?

It is assumed that you are running CorelDRAW X4/X5. For lower versions (9/10/11/12/X3), some macros will work, some won't. This is because macro makers use new features available in VBA with each new version of CorelDraw. Look for compatibility details on each product page. Due to changes in CorelDRAW X6/X7 (64-bit), some macros might work, but might not. We're in the process of sorting out hundreds of macros. Not every macro developer has these versions yet.
Special Offers

eCut 6 for CorelDRAW - 1 installation view >
Description: E-Cut 6 is a remarkable add-on for CorelDRAW allows many advanced abilities for artists who work with Vinyl, CNC machines, or laser c...

$

129.95




$

59.95

Jeff's Gold Factory for CorelDRAW view >
Description: Here's the macro that automates Jeff's highly popular effect. Note: you must have the full version of CorelDRAW installed, and Photo-PAINT too. The "Edit Bitmap' button must be available on the property bar when you have a bitmap s...

$

24.95




$

14.95

rStones 3 Rhinestone Designer Suite - 1 installation view >
Description: rStones 3: the most awesome rhinestone design tool for CorelDRAW!...

$

99.95




$

49.95