Subscribe to our E-Newsletter!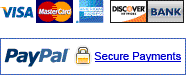 Where should you start?
It is assumed that you are running CorelDRAW X5 or X4 For lower versions, some macros will work, some won't.This is because macro makers use new features accessible through VBA with each new version of CorelDraw. NOTE: Due to changes in CorelDRAW X6, some macros might work but also may not. We're in the process of sorting out hundreds of macros. Not every macro developer has X6 yet.

Special Offers

Alexander Penkin's Cadtool 5 view >
Description: For those who've dreamed of having numerous powerful CAD-like features in CorelDRAW, this macro is a huge toolbox. It's amazingly affordable for the amount of functionality you get. Several interesting improvements you might not have seen yet.....

$

49.95




$

24.95

Alexander Penkin's NeonTool 7 view >
Description: Neon Tool 7.1.3 is now here! View a video here about it.Works with t...

$

59.95




$

24.95

eCut for CorelDRAW - 1 installation view >
Description: ...

$

129.95




$

59.95