New Customers: Simple Accounts are automatically created at checkout time. Your name and email address – that's all!
Everyone: use a PayPal Account OR just a regular credit card, such as: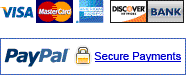 We will never know your credit card information. That remains between you and PayPal only.
You don't need a PayPal account.
After a successful purchase, check your email (and spam bin) for an email from us showing product download details. You can also click on My Account and look on the left side of your screen for Downloads.