Description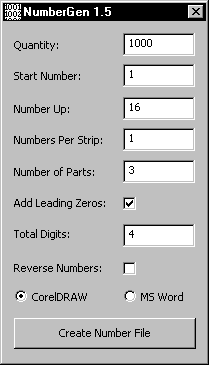 This awesome utility allows you create specially formatted numerical data files for CorelDRAW print merges. The latest version allows for Microsoft Word mail merges too.
The great thing about this product? How it allows for N-ups on a press sheet, and for multi-part forms!

Watch 2 free movies to see a slightly older version of the product in actual use.
Here's an example of how the results can look on the final press sheets:
UPDATE: version 1.5 now allows for sequencing in "Strips" throughout different pages. A bit tricky to describe…